Superstari Frederik Ndoci — nga Klajd Kapinova
Frederik Doci (Ndoci)
The Official Web Site: [ http://frederikndoci.com/ ]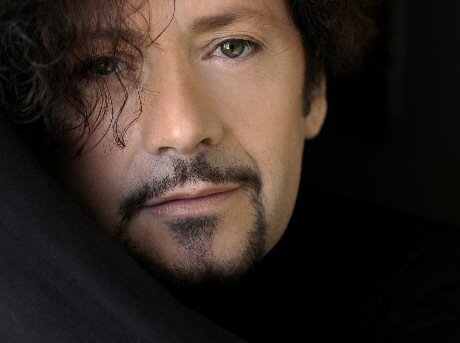 From the land of eagles, a new and powerful voice takes flight, Frederik Doci (Ndoci), an Italian/Albanian hailing from the lakes and mountains of Albania's historic Shkodra, is on a mission to capture the hearts and minds of music lovers everywhere. Doci has electrified the stage all over the world with the voice of Caruso, the heart of Elvis Presley and the soul of a gypsy. Not only does he e scale the operatic heights of his deep baritone and enchanting tenor range, he also melts hearts with his seductive and sensual romantic voice. What sets Frederik apart from the opera stars and crooners is his versatility as a multi-instrumentalist and accomplished songwriter. The world will discover on Frederik's fourth and latest CD, Canterina, that he not only sings the language of love, he will perform songs in six different languages.
Doci is wrapping up the recording of the double CD, Canterina, withh producer George A. Gesner of GAG Order Records, for their newly launched imprint Blue November. He can be seen and heard live at venues throughout the United States and Europe.
Frederik's recording debut came out of Italy where he played guitar and sang with Pagina d'Album. The album Canta Frederik was well received in Italy and the subsequent video was aired on several TV stations there. Frederik made inroads with his second CD Sono Gitano, when it became a best seller and went gold in Italy. The CD continues to be a best seller in Frederiks home country and parts of Eastern Europe. After invitations to several major events, such as the Peace Festival in Romania, where he sang a song for the late Mother Teresa, the Miss Europa pageant, and other key festivals. Frederik set sail for the U.S., landing in San Diego. California. It was here that he was courted by the Christian College Heritage and commissioned to record his third CD, Frederik and Friends. Featuring American Christian sacred songs, Frederik took the holdstep of doing his first project in English.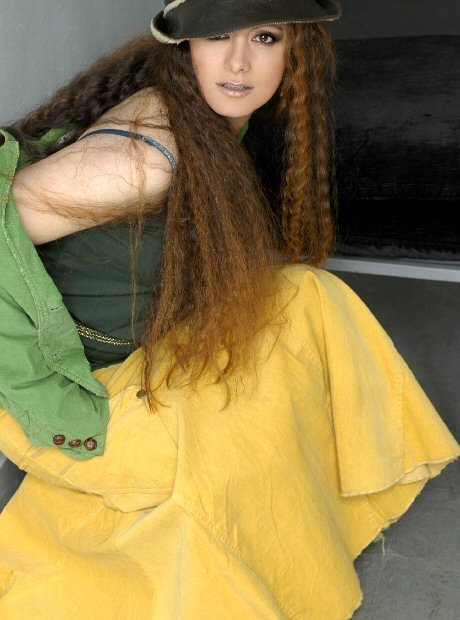 Frederiks new CI) features songs in English as well as Spanish Italian. Greek. French, and naturally. Albanian. Tb e album captures all of F'rederik's influences: classical,, folk, ,vypsy.pop. and rock.1k fuses itall into one world-class project. The album was recorded atManh. attan's Magik Music with. Gesner and programmer/ sound designer Harold Stephan (Amelias Dream) plus an international. world clos cast o f musicians.
---
FACT SHEET
Interesting tidbits about Cantering, the new double CD by international singing artist Frederik Doci
1. Man of a Thousand Voices: Frederik sings baritone, tenor, bass, and countertenor. He can sing arias, romantic ballads, rock songs, Neapolitan – all in authentic character. Frederik sings in six diferent languages on the CD. Experience the e diversity on his new CD Canterina.
2. International Cast of Musicians: The true nature of this world music CD is reflected by the musicians and vocalists who have shared their gifts with Frederik. They have come from all over the world Albania, Australia, Finland, Greece, Ireland, Italy, Kosova, Montenegro, and New Zealand. All the love in the world, indeed!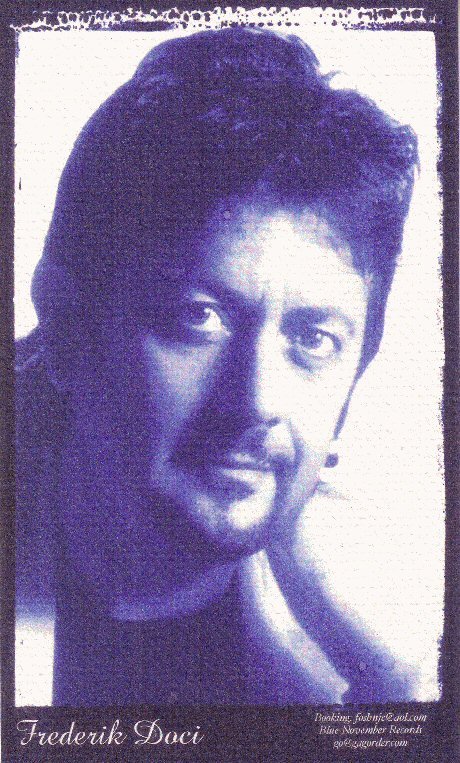 3. All Star Cast of Musicians
: The musicians featured on Canterina have played for all these great recording artists: Marc Anthony, Bee Gees, George Benson, Jon Bon Jovi, Tracy Bonham, Boston Pops, Chris Botti, Jonatha Brooke, Ruth Brown, David Byrne, Mariah Carey, Vanessa Carlton, Patrick Cassidy, Mark Cohn, Natalie Cole, Phil Collins, Shawn Colvin, Barbara Cook, Elvis Costello, Sheryl Crow, Delerium, John Denver, Depeche Mode, Celine Dion, Doobie Brothers, East Vallage Opera Company, Tommy Emmanuel, Erasure, Flo & Eddie, Lita Ford, James Galway, Art Garfunkel, Al Green, Josh Grobon, Juan Luis Guerra, I Muvrini, Joe Jackson, Jewel, Billy Joel, Chaka Khan, Lenny Kravitz, Patty Larkin, Peggy Lee, Huey Lewis, Manhattan Transfer, Ricky Martin, McGarrigle Sisters, Bette Midler. Neville Brothers, New York Voices, Aldo Nova, Sinead O'Connor, O'Jays, October Project, Jane Olivor, Eddie Palmieri, Dolly Parton, Tito Puente, Quen Latifah, Martha Reeves, Sara K, Jon Secada, Richard Shindell, Jane Siberry, Carly Simon, Paul Simon, Phoebe Snow, Special EFX, Bruce Springsteen, Spym Gyra, Rod Stewart, Curtis Stigers, Barbra Streisand, James Taylor, Tower of Power, Trans-Siberian Orchestra, Suzanne Vega, Billy Vera, Junior Wells, The Who, Dar Williams, Vanessa Williams, Paul Winter, and Yo-Yo Ma. Movies and shows include Blues Clues, Far and Away, Long Journey Home, Moving Out, Out of Ireland, Riverdance, and Shrek 2. Now that's a list!
4. Guest Recording Artists: Frederik is honored and grateful to have these recording artists grace the trucks of Canterina: Amelia's Dream (indie rock favorites), Ramon Bermudez Jr. (flamenco/jazz artist), Elton Deda (Albanian pop rock star), Dave Eggar (famed cello artist), Ralf Hyseni (world accordion artist), Karen Jacobsen (Australian pop singer extraordinaire), Jerry O'Sullivan (Uilleann pipes), October Project (classical folk rock legends), Sylvia Tosun (exotic pop songstress). Make sure to discover the CDs of these amazing artists.
---
Songs to Be Featured on Canterina the New Frederik Doci CD

ZONJA SHKODER. This original epic, written by Frederik, goes to the roots of his birthplace in Shkodra and incorporates elements of Albanian folk, rock, and gipsy. This moving piece is sung in his native Albanian language. The track features Albanian artist Aida Caci on traditional vocals and renown Finnish flautist Ulla Suokko on flute and bass flute. International recording artists Sylvia Tosun (background vocals) and Arenc Leka (violin) are also featured.
RETURN TO ME: This powerful romantic number was originally performed by Epic recording artists October Project and was written by their own Emil Adler and Julie Flanders. This song features a lush, and moving Celtic flavor heaped with a valiant sense of passion. This song features current October Project band members Urbano Sanchez on percussion and Martha Colby on cello. Athena O'Lochlainn of Riverdance and famed Uilleann pipes player Jerry O'Sullivan have joined in for the ride.
EL DICHOSO SOY YO: We were indeed lucky to came across this Latin romantic pop heart melter. Frederik is a natural singing in Spanish. All indications are that this Norman Kerner/Luis Moreuo gem will be a smash.
PIANO ON A MOON: Songwriter Kerner has the golden touch. Co-written with John Ranger this is a lash, attnospheric ballad destined to go lunar in the pop and ambient genres. Kudos to Harold Stephan on the programming and sound design. Albanian pop artist, Elton Deda is featured on grand piano.
CANTERINA: The title track is a moving and enchanting number written by the team of Frederik, Antonio Esposito and producer George A. Gesner- This piece embodies the spirit and diversity of the CD, as it travels across the classical, pop, rock, Neapolitan and ambient genres. Sung in Englishh and Italian, the track features a bridge where Frederik performs an excerpt from the Cilea opera L'Arlesiana appropriately titled the Lancent of Frederick.
MUSICA: This enchanting, Italian classical ballad was written by legendary songwriter/ arranger Antonio Esposito specifically for Frederik. Neapolitan meets Broadway. Australian recording artist Karen Jacobsen is featured on the captivating featured female vocals. New Zealander bassist Richard Hammond joins the international cast on stand-up bass.
FALLING IN LOVE AGAIN: Who can forget Marlene Dietrich singing this classic in The Blue Angel? Frederik will help you forget as he transforms this Frederick Hollander/Samuel Lerner piece in his intimate and wistful style. Ths is songfeatures the acoustic styling of Australian guitar legend Ben Butler and the baunting harmonica performance of Williain Galisorn (Bagdad Café).
GLASS HEART: This nocturnal and melancholic piece written by Frederik and Gerner gets the sensual and teary treatment and is another contender for a single off the CD. Thanks to top flight musicians Butler, Galison, Stephan, Sanchez and renown bassist Michael Visceglia, the Latitn/Brazilian vibe is just what the doctor ordered for a soft, sensual and seductive evening under the stars.
MALAGUENA SALEROSA: Frederik takes this old traditional Mexican folk song and delivers a modern mariachi opera you can dance to. Mariachi, flamenco, and rock treatments battle it out quite nicely: This track features flamenco/smooth jazz favorite Ramon Berrnudez jr. and Butler on guitars. The world-class rhythm team of Visceglia, Sanchez and Steve Hass supply the groove that can't be beat. Song features top trumpet player Barry Damelian.
ALL THE LOVE IN THE WORLD: Frederiks traditional concert closer is a Europop rock anthem written by him and producer Gesner. The song certainly has a multicultural flair as he finds a way to sing "I Love You" in eight different languages.
THE CRYING FIELD: Every CD needs an epic, full-production number about the ravages of war. Frederik will make you cry, angry and emboldened with this full-scale and moving rock ballad, written by Frederik, Gesner, and Harold Stephan. The track combines Celtic, Native American and Eastern European inefluences.
MAVRA YALYA(Dark Glasses): You may be saying it is all Greek to me, and you would be correct, as Frederik takes on this smash Anna Vissi number written by Nikos Karvelas. This rock power ballad is so dynamic, it could bring Mount Olympus crumbling to the ground.
PEARLS: This medley comprises Au Fond du Temple Saint and Je Crois Entendre Encore from Georges Bizet's opera Pearl Fishermen. Frederik takes center stage as a one-man ensemble going from tenor to baritone to countertenor. The famed duet starts off in a traditional classical style, but by the time the romance number begins, the piece is fused into a modern Cirque de Soleil style adventure. Besides Suokko on bass flute and chanteuse Tosum, famed accordionist Raif Hyseni and guitar marvel Marc Shulman paint the canvas.
LA DANZA: Classical fans will be quite familiar with this tarantella by Gioacchino Rossini, however Frederiks operatic tour-de-force is accompanied by an exhilarating high-energy dance arrangement. Opera star Jaime Cerota joins the fun. Who said you couldn't sweat to classical music?
FOREVER AND ALWAYS: Kerner completes his hat trick of sorgs with this sweeping lush wedding ballad in a duet which features Frederik and renown pop singer Carolee Goodgold. Warning: Song may cause tears of joy and impassioned hearts!
THE CARUSO MEDLEY: Take a slice of Neapolitan with this medley featuring Dicintencello Vuite. a song made famous by Enrico Caruso, and Caruso, the smash hit by Lucio Dalla. The first half infrues the blues guitar of Butler with the classical Neopolitan style arrangement. Frederiks Italian roots come shining through in the second half with the simple elegant accompamimrent of Deda on grand piano and wunderkind Dave Eggar on cello.
ANCHE SENZA DI TE: Saving the best for last is an Italian smash hit that only Frederik can sing. This beautiful romantic pop ballad written by Cano and Belfiore features a wonderful string arrangement by Jeff Grace.
For more information, contact George A. Gesner at GAG Order
Productions/Blue November Records (212-686-0902 or e-mail: go@gagorder.com).
For bookings, call 718-547-5W or e-mail: foshnjeCaol.con.