BIOGRAPHY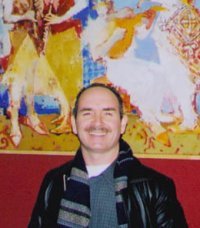 George Pali was born 1957 in Shkoder, Albania, a small sunny Mediterranean country. During the childhood I was interested in music. Little by little, I abandoned the music for painting, through which I better expressed myself.
I received my BFA from the Institute of Arts in Tirana, Albania in 1981. In January 1988 I escaped from Albania for political and artistic freedom. Later emigrated to USA, where I pursued my Master of Fine Arts at Michigan State University, I graduated in 1991. Now I live in Yonkers, New York with my wife Rozafa and daughter Rozi. Presently, I'm the Head of Design Developing for Marketing & Communication at Shearman & Sterling, 599 Lexington Avenue, New York, NY 10022.
My paintings are colorful, textured, and technically executed. My images weave images of music, my past and remains of my daily life, Albanian and American patterns and compositions. Expressionistic, painterly, and inspirational.
For more information call: 1(212)-848-7767 from 9 – 5:30 monday – friday (New York time)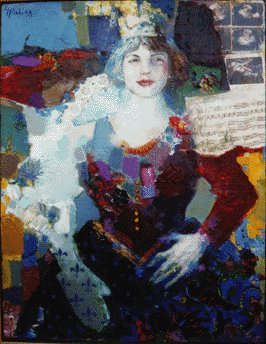 Exhibitions & Collections
Gallery 444, 444 Post Street, San Fransisco, CA – On going [Represented on the West Coast]
New York Arts Equity Gallery, 498 Broome Street, SOHO, NYC, Sep.1st, 2003 (One man show)
Western Publishing, 350 Third Avenue, New York, NY – May- June 2003 (One man show)
Biennale Internazionale Dell'Arte Contemporanea, December 2003, Florence, ITALY
The International Academy of Modern Arts, March 2003, Rome, ITALY
Images of Art, 540 Nepperhan, Yonkers, NY Nov16-Dec 30 2002, (One Man Show)
The Ninth Life Fine Art Gallery, St Thomas, US, Virgin Islands, September 2002, (One Man Show)
Gora Gallery, Montreal, Canada, June 19 – July 10, 2002
Purple Gallery, New Rochelle, Two Year Round Show, November 1997 – November 1999
Art Coalition of Manhattan, Group Show, 96 St. and Broadway, New York City, December 1996
The Wall Gallery, New York University, One Man Show, 44 West 4th St. SOHO New York City
Ward Nasse Gallery, Prince Street, SOHO, NYC, Summer 1996
Kresge Art Center, East Lansing Michigan, One Man Show, 1991
Center Art Gallery, Calvin College, Grand Rapids, Michigan, Group Exhibition, 1989
Group Exhibition: Albania 1980, 1983, 1985, 1986, 1987.
Statement
Since the mid 90s, my work has focused on the themes of music and memories of childhood and adolescence. My paintings often weave together mythical stories of a lost culture with remembrances of my past life, including fragmented references to musical instrument and musical notation, religious iconography, and folklore from the Balkans.
The prominence of musical notes, musicians, dancers and musical instruments is notable in my paintings. As an adolescent, I went to music school for eight years where I played the violin and guitar. I chose not to become a musician because my interest in colors and shapes was far more intense than my interest in sounds. But still, the shapes and colors of instruments are very much "music to my eyes."
Many times, I incorporate collages of musical notes and other textured objects in my paintings to create flat and two-dimensional impressions. Realistic, figural, and abstract imagery, parts of musical instruments, musical notes, musicians and other objects are used together to create interesting and spontaneous "Jazz" and "Classical" compositions.
The legends and folk songs of the Balkans, memories of traditionally costumed men and women, and architecture from the cities and towns of my youth, all have a direct influence on my paintings. My study of folk costumes, and the motifs and compositions of folk art, aid in the creation in my work of authentic details and textures, and picturesque tones. At folklore festivals, I witnessed scenes of a unique, lost way of life, which still strongly impact my art – images of richly costumed drummers, dancers and singers and the sounds of the traditional music are still vivd to this day in my memories. These visions from the past inspire my work today.
Taken from: GRARTGALLERY