From Wikipedia, the free encyclopedia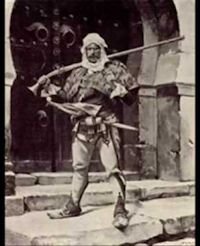 Oso Kuka (c. 1820-1862) was an Albanian military commander and an early proponent of the Albanian National Awakening. Surrounded by Montenegrin soldiers in a tower in the island of Vranina, he blew it up killing himself and many of the enemy soldiers. In the following decades he became a rallying figure of the Albanian independence movement and a much celebrated character of important works in Albanian literature.
Life
Born around 1820 in Shkodër Oso Kuka was a border guard on the Ottoman-Montenegrin border. At the outbreak of the Ottoman-Montenegrin hostilities of 1861-2 the area was in a state of general turmoil as a result of the popular revolts against the centralization policies of the Ottoman governor Abdi Pasha.… | Read more...